Today, September 9th 2013, an impressive collaboration was announced in Dutch media – many of the most influential Dutch media outlets have united in the "Publeaks Foundation" and started a whistleblower website: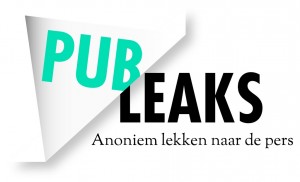 The actual leaking can be done via https://secure.publeaks.nl, which uses the Tor anonymity network as part of protecting those involved. That URL should be visited via the Tor Browser Bundle. Unfortunately, JavaScript must be enabled in order to use the leaking interface:
Error! 🙁  Your browser is not running Javascript, and It's required to use GlobaLeaks anonymous submission client, because is entirely Javascript based.
It's common believe that Javascript and security don't sound well together, for this reason we suggest to use GlobaLeaks, with Tor Browser Bundle, an extremely tuned FireFox browser with Tor integrated. Here you can found and download the latest release of: Tor Browser Bundle.
Requiring JavaScript increases technical attack surface, as demonstrated in April by the FBI, who exploited a 0-day in Tor Browser Bundle using this JavaScript code. However, as stated by @fpietrosanti, JavaScript is necessary for certain aspects of whistleblower security awareness, and the current set-up may be a good balance: "Without using JavaScript it would not be possible to provide the usability required for whistleblower security awareness. It's a good balance between privacy awareness vs. usability vs. security focusing on whistleblower side."
The Publeaks website contains information on social and technical risks and how to mitigate those (in Dutch). It is possible to donate to Publeaks (in Dutch, scroll down).
The Publeaks Foundation selects participating media outlets based on two principles: 1) the outlet must have statutory objectives, and 2) the outlet must act in accordance with the IFJ Declaration of Principles on the Conduct of Journalists.
Here is Publeak's official English press release (source):
Publeaks press release September 9th

The Publeaks Foundation and a large number of Dutch media outlets are today launching Publeaks.nl , a website for people to leak documents to the media securely and anonymously. The initiative is designed to protect whistleblowers, shed light on wrongdoings and encourage and support investigative journalism.

Publeaks is a secure channel. It facilitates safe leaking to the press: the sender remains completely anonymous and he or she can choose which of the participating media outlets receive documents, sound fragments or photographic material. Recipient media outlets can process these files in a protected environment.

Publeaks is based on the GlobaLeaks software package developed by the Hermes Center for Transparency and Digital Human Rights. The Publeaks organization has no access to the leaked files, does not publish anything itself and has no means of identifying the informant. Participating media outlets have committed themselves to verifying the leaked materials, finding sources to support the content and hearing all sides before publishing anything. Journalists can put questions to the anonymous informant on a secure part of the site.. The informant decides whether or not to answer them. Journalists who receive material through Publeaks will know which other media outlets have received the same material and can decide whether or not to undertake a collaborative investigation.
Publeaks is an initiative of the Publeaks Foundation. The foundation takes measures to support press scrutiny and is financed by the participating news media: AD, De Correspondent, De Groene Amsterdammer, De Volkskrant, Het Financieele Dagblad, het Parool, NOS Nieuws, NRC Handelsblad, Nieuwsuur, Nu.nl, Pownews, RTL-Nieuws, Trouw and Vrij Nederland. This collaboration of almost all leading Dutch news organisations is a unique initiative without global precedent, in a time that safety, privacy and protection of whistleblowers is more relevant than ever.
EOF